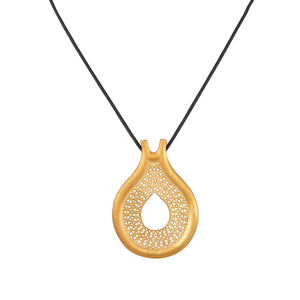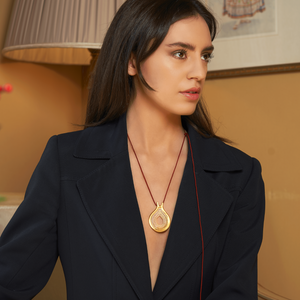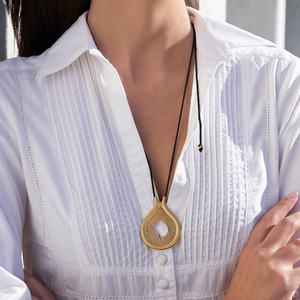 Zoom the image with the mouse
Pan-Shaped Pendant
Tax included.
Shipping
calculated at checkout.
Inspired by the pan-shaped vessels of the Early Cycladic era (2800-2300 BC), we designed this Gold-plated pendant for special occasions. The pan-shaped vessel has derived its name from the pans, because it looked alike. This is an Artpoint Papasotiriou exclusive item.
The pan-shaped vessels are usually adorned with a central spiral, surrounded by a variety of designs and symbols that may represent the sea. Their use has not yet been clearly established, but they may have been associated with beliefs about the afterlife as they were found mainly in tombs. Studies also show that the pan-shaped vessels calculated time based on the motion of the planet Aphrodite (Venus), but also other planets, such as Jupiter, Mars and the Sun. There are serious indications that towards the end of the Neolithic era (6,500 BC), Greeks knew that the Earth needed 365 days to make a complete orbit around the Sun, Venus needed 584 days to reach to the same point in the sky, and Jupiter needed 399 days. In pan-shaped vessels, there is also a kind of symbolic, simple, but not simplistic writing that allows astronomical knowledge. Many pan-shaped vessels depict engravings which correspond to the number of days of human pregnancy. Moreover, the women of the Aegean on a daily basis, put a color mark on the triangles or other symbols that were depicted in the pan-shaped vessels, in order to calculate their menstrual cycle.
Returns Policy
Returns are accepted only if the items you wish to return are intact and in their original packaging, along with the sales receipt or invoice. To avoid any inconvenience, you should carefully check the product when delivered in order to detect any obvious defects or errors. To ensure the return or exchange of a product, it is compulsory to follow the return procedure described above. Also, items that are returned incomplete, damaged or soiled are in no case accepted, exchanged or refunded.
Depending on the payment method of your order, your refund will be completed within 30 days from the date we receive the products. Our company reserves the right to change prices without notice. In this case, the products are invoiced based on the value they had your order was placed.
Please contact us before returning a product by calling at +30 2103 533 070 or by sending an e-mail artpoint@papasotiriou.gr
Shipping
ARTPOINT PAPASOTIRIOU can serve customers globally. The cost of shipping varies from city to city and from country to country, according to the product you chose to purchase. That is why we have formed a specific dispatching policy to be as fair as possible. Orders are shipped within 3 to 30 business days (depending on product availability). If we cannot deliver your order due to force majeure (strikes, extreme weather conditions, etc.) we will contact you to inform you. Once you complete your order, you will receive an e-mail confirming that we received your order.
5,5h x 0,15d cm / Chain: 50l cm Weight: 16 gr