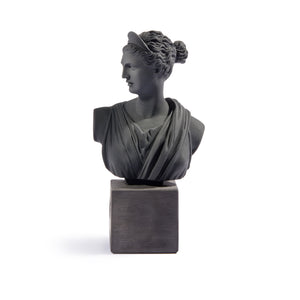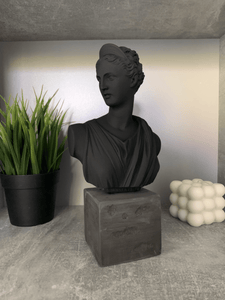 Zoom the image with the mouse
Coloured Bust of Goddess Artemis
Tax included.
Shipping
calculated at checkout.
Handmade bust of Goddess Artemis in a coloured version. She was the Goddess of hunting, war and the moon, and was the protector of wild animals, mountains, forests and little girls. Artemis was born in the island of Delos and was the daughter of Zeus and Leto, and the twin sister of God Apollo.
Goddess Artemis inhabited in springs and rivers. She wore a bow and arrow, and was accompanied by Nymphs and a wild deer. She also had healing abilities and contributed in the healing of sick people. As a lunar deity, she was identified with the subterranean Goddess Hecate. In Brauron, Attica, there was a sanctuary dedicated to her, known as "Artemis Brauronia". The Goddess was worshiped as the protector of fertility, labour and childbirth and when the birth was good, women would pledge their child to the Goddess and dedicate their clothes to her. The adjective "Tauropolos" from the Greek word "tavros" (bull), signifies that the bull was also one of her symbols. In various monuments, Artemis is depicted on a chariot drawn by two speedy bulls holding a torch in her hand and above her head the crescent moon shines.
Returns Policy
Returns are accepted only if the items you wish to return are intact and in their original packaging, along with the sales receipt or invoice. To avoid any inconvenience, you should carefully check the product when delivered in order to detect any obvious defects or errors. To ensure the return or exchange of a product, it is compulsory to follow the return procedure described above. Also, items that are returned incomplete, damaged or soiled are in no case accepted, exchanged or refunded.
Depending on the payment method of your order, your refund will be completed within 30 days from the date we receive the products. Our company reserves the right to change prices without notice. In this case, the products are invoiced based on the value they had your order was placed.
Please contact us before returning a product by calling at +30 2103 533 070 or by sending an e-mail artpoint@papasotiriou.gr
Shipping
ARTPOINT PAPASOTIRIOU can serve customers globally. The cost of shipping varies from city to city and from country to country, according to the product you chose to purchase. That is why we have formed a specific dispatching policy to be as fair as possible. Orders are shipped within 3 to 30 business days (depending on product availability). If we cannot deliver your order due to force majeure (strikes, extreme weather conditions, etc.) we will contact you to inform you. Once you complete your order, you will receive an e-mail confirming that we received your order.
22h cm / Base: 7l x 7d cm Weight: 1.095 gr