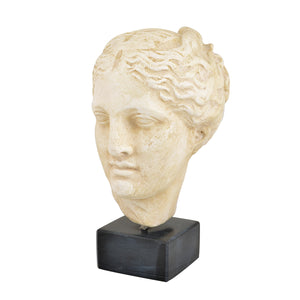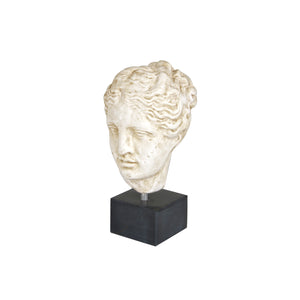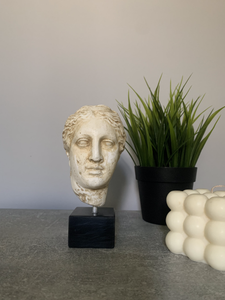 Zoom the image with the mouse
Head of Goddess Hygeia
Tax included.
Shipping
calculated at checkout.
The bust of Hygeia, the Goddess of health, makes an ideal present for doctors, professors and medical students. Ηygeia (meaning "health" in Greek) symbolized sanitation and hygiene, and was the daughter and attendant of Asclepius, the God of Medicine. She was related to the disease prevention.
Her symbol was a snake that she held in one hand or wrapped around her body, or had next to her. Titane is the oldest place of worship in the area of Sicyon, where the sanctuary of Asclepius and Hygeia was located. According to the Ancient Greek tradition, Ariphron wrote an hymn to the goddess, whose worship spread to Athens amongst other areas around 420 BC.
It is worth mentioning that the Orphic Hymn is a tribute to the Goddess and betrays the importance Ancient Greeks gave to the maintenance of good health: "Charming queen of all, lovely and blooming, blessed Hygeia, mother of all, bringer of bliss, hear me. Through you vanish the illnesses that afflict man, through you every house blossoms to the fullness of joy. The arts thrive when the world desires you, Oh queen, loathed by Hades, the destroyer of souls. Apart from you all is without profit for men: wealth, the sweet giver of abundance for those who feast, fails, and man never reaches the many pains of old age. Goddess, come, ever-helpful to the initiates, keep away the evil, distress of unbearable diseases."
Returns Policy
Returns are accepted only if the items you wish to return are intact and in their original packaging, along with the sales receipt or invoice. To avoid any inconvenience, you should carefully check the product when delivered in order to detect any obvious defects or errors. To ensure the return or exchange of a product, it is compulsory to follow the return procedure described above. Also, items that are returned incomplete, damaged or soiled are in no case accepted, exchanged or refunded.
Depending on the payment method of your order, your refund will be completed within 30 days from the date we receive the products. Our company reserves the right to change prices without notice. In this case, the products are invoiced based on the value they had your order was placed.
Please contact us before returning a product by calling at +30 2103 533 070 or by sending an e-mail artpoint@papasotiriou.gr
Shipping
ARTPOINT PAPASOTIRIOU can serve customers globally. The cost of shipping varies from city to city and from country to country, according to the product you chose to purchase. That is why we have formed a specific dispatching policy to be as fair as possible. Orders are shipped within 3 to 30 business days (depending on product availability). If we cannot deliver your order due to force majeure (strikes, extreme weather conditions, etc.) we will contact you to inform you. Once you complete your order, you will receive an e-mail confirming that we received your order.
Small: 13,5h x 7l x 3d cm / Weight: 575 gr | Big: 17h x 10l cm / Base: 3d cm / Weight: 1.600 gr