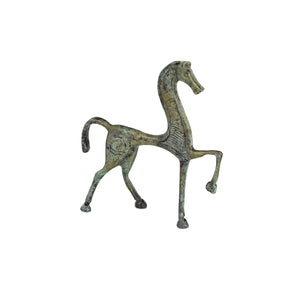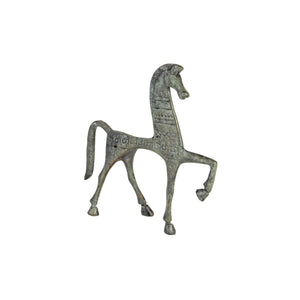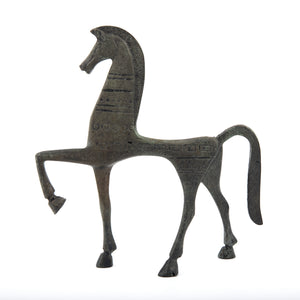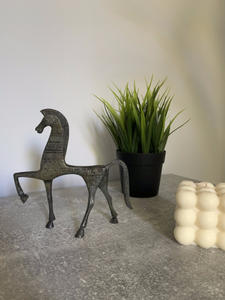 Zoom the image with the mouse
Dancing Horse Figurine
Tax included.
Shipping
calculated at checkout.
Dancing horse bronze figure that reminds us of the important role of horses in Ancient Greece. They were deemed to be immortal, strong and proud animals which symbolized strength, beauty and pride.
They were worshipped and associated with the victory of wars, as well as with Alexander the Great. Poseidon, the God of the sea, was considered to be the horse's creator. Ancient Greek horses were not very tall or large, but they were known for being firm and mighty. It is worth mentioning that Homer in the "Iliad", attributes metaphysical properties to the horse. In addition, they were prophetic beings which foretold the death of their master with the most known example being Xanthos, Achilles's horse. Apart from this, in Ancient Greece, horses had two qualities that other animals rarely had; they had a human voice and prophesied, while at the same time, gods and humans mingled with them and gave birth to special creatures, like Centaur Chiron. Last but not least, temples such as the Parthenon were adorned with perfectly sculpted marble horses.
Returns Policy
Returns are accepted only if the items you wish to return are intact and in their original packaging, along with the sales receipt or invoice. To avoid any inconvenience, you should carefully check the product when delivered in order to detect any obvious defects or errors. To ensure the return or exchange of a product, it is compulsory to follow the return procedure described above. Also, items that are returned incomplete, damaged or soiled are in no case accepted, exchanged or refunded.
Depending on the payment method of your order, your refund will be completed within 30 days from the date we receive the products. Our company reserves the right to change prices without notice. In this case, the products are invoiced based on the value they had your order was placed.
Please contact us before returning a product by calling at +30 2103 533 070 or by sending an e-mail artpoint@papasotiriou.gr
Shipping
ARTPOINT PAPASOTIRIOU can serve customers globally. The cost of shipping varies from city to city and from country to country, according to the product you chose to purchase. That is why we have formed a specific dispatching policy to be as fair as possible. Orders are shipped within 3 to 30 business days (depending on product availability). If we cannot deliver your order due to force majeure (strikes, extreme weather conditions, etc.) we will contact you to inform you. Once you complete your order, you will receive an e-mail confirming that we received your order.
Small: 9h x 8l cm x 1d / Weight: 70 gr | Big: 13,5h x 13l x 1d cm / Weight: 224 gr