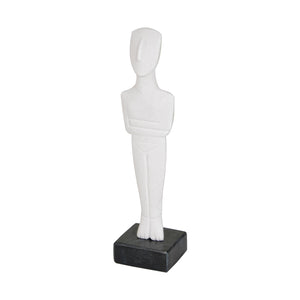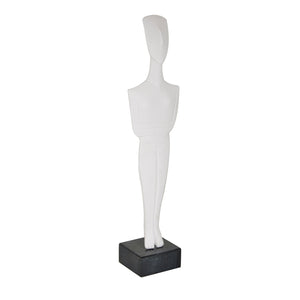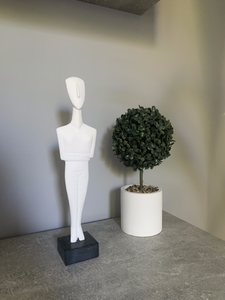 Zoom the image with the mouse
Marble Cycladic Idol
Tax included.
Shipping
calculated at checkout.
Cycladic idol made of Thassos island white marble on a black marble base, that adds a Greek touch at your space. The Cycladic idols are the first sample of art of the Ancient Greek civilization, found in the islands of Cyclades (2800-2300 BC). This art features female marble figures with their hands folded on their chests, symbolizing fertility and rejuvenation.
However, the majority of the Cycladic marble figurines date back to the advanced phase of the Proto-Chalcian period of the culture of the island of Syros (Early Cycladic II). The figurines with the "Folded Hands" are mostly female. Only a few Cycladic figurines depict men standing and often dressed - albeit subtly - with a belt and a ribbon going over their shoulder. The sculpture of these times contributed to the evolution of Greek plasticity of antiquity, and the basic aesthetic model of the artistic avant-garde of the early 20th century; which promotes minimalism. Cycladic figurines were found in tombs and in sanctuaries. They have been interpreted as substitutes for human sacrifices, as psychopomps, and even as toys.
Returns Policy
Returns are accepted only if the items you wish to return are intact and in their original packaging, along with the sales receipt or invoice. To avoid any inconvenience, you should carefully check the product when delivered in order to detect any obvious defects or errors. To ensure the return or exchange of a product, it is compulsory to follow the return procedure described above. Also, items that are returned incomplete, damaged or soiled are in no case accepted, exchanged or refunded.
Depending on the payment method of your order, your refund will be completed within 30 days from the date we receive the products. Our company reserves the right to change prices without notice. In this case, the products are invoiced based on the value they had your order was placed.
Please contact us before returning a product by calling at +30 2103 533 070 or by sending an e-mail artpoint@papasotiriou.gr
Shipping
ARTPOINT PAPASOTIRIOU can serve customers globally. The cost of shipping varies from city to city and from country to country, according to the product you chose to purchase. That is why we have formed a specific dispatching policy to be as fair as possible. Orders are shipped within 3 to 30 business days (depending on product availability). If we cannot deliver your order due to force majeure (strikes, extreme weather conditions, etc.) we will contact you to inform you. Once you complete your order, you will receive an e-mail confirming that we received your order.
Small: 16h x 4l x 2d cm / Weight: 190 gr | Medium: 19,5h x 5l x 2d cm / Weight: 260 gr | Big: 32h x 8l cm / Base: 3d cm / Weight: 765 gr