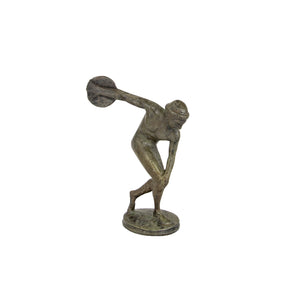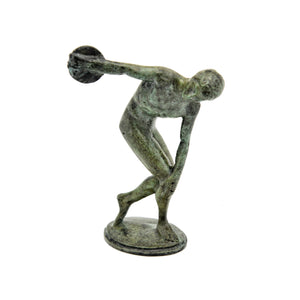 Zoom the image with the mouse
Discobolus of Myron
Tax included.
Shipping
calculated at checkout.
Discobolus (or Discus Thrower) is a bronze artwork of the renowned Greek sculptor, Myron (450 BC), and represents a young athlete preparing to release his throw.
The posture captures a momentary movement: the athlete has bent his knees, lowered his body and stretched his right arm as he gained strength. The viewer feels that the thrower gets ready to stand up and throw the discus as far as he can. The accuracy with which the anatomy of the body is rendered, is remarkable. It is considered that the statue was placed by an athlete in a big sanctuary as a tribute. In Ancient times, the discus was not an independent sport, instead it was part of the pentathlon, a series of five sports which included the stadion (a short foot race), the javelin throw, the discus throw, the long jump and the wrestling.
Returns Policy
Returns are accepted only if the items you wish to return are intact and in their original packaging, along with the sales receipt or invoice. To avoid any inconvenience, you should carefully check the product when delivered in order to detect any obvious defects or errors. To ensure the return or exchange of a product, it is compulsory to follow the return procedure described above. Also, items that are returned incomplete, damaged or soiled are in no case accepted, exchanged or refunded.
Depending on the payment method of your order, your refund will be completed within 30 days from the date we receive the products. Our company reserves the right to change prices without notice. In this case, the products are invoiced based on the value they had your order was placed.
Please contact us before returning a product by calling at +30 2103 533 070 or by sending an e-mail artpoint@papasotiriou.gr
Shipping
ARTPOINT PAPASOTIRIOU can serve customers globally. The cost of shipping varies from city to city and from country to country, according to the product you chose to purchase. That is why we have formed a specific dispatching policy to be as fair as possible. Orders are shipped within 3 to 30 business days (depending on product availability). If we cannot deliver your order due to force majeure (strikes, extreme weather conditions, etc.) we will contact you to inform you. Once you complete your order, you will receive an e-mail confirming that we received your order.
Small: 9,5h x 7l cm / Weight: 175 gr | Medium: (dimensions and weight will be uploaded soon) | Big: 14h x 12l cm / Weight: 845gr